Two Harmeny pupils have been awarded Special Merits in the 2020 National Galleries of Scotland Art Competition for Schools and Families.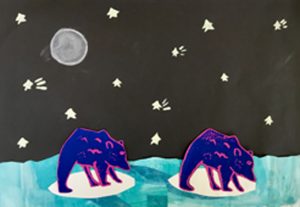 Inspired by the theme Amazing Nature, Dyamien Miller received his award for a seascape at sunset titled "Whales' Tale". Meanwhile, Jay McHugh's  atmospheric "Polar life floating away" reflected her concerns for the environment.
These successes follow hot on the heels of Harmeny's lockdown animation, "The Mice and the Bakers", currently on show at the Glasgow Gallery of Modern Art.
Where next… The Tate?