When Places for People completed its housing development at The Green, in Longstone, the company sought to find a positive way to repurpose a large marketing suite in the form of a portacabin.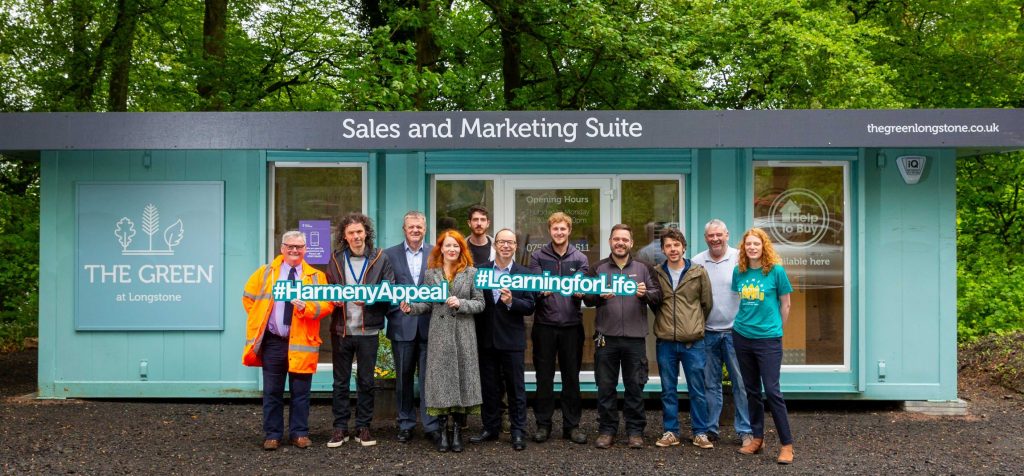 Places for People's managing director for developments Scotland, Willie Lockhart with Harmeny's chief executive Neil Squires and teams from both Places for People and Harmeny Education Trust

The house builder launched a campaign calling on Scottish charities, community groups and social enterprises to find a suitable alternative use for the 85 sq m structure, as well as offering to cover all costs for its relocation to the chosen charity's base in a support package worth more than £30,000.
Harmeny chosen as beneficiary
Harmeny Education Trust was chosen as the successful applicant and the portacabin was delivered to the charity's 35-acre estate in Balerno over the Easter weekend. Harmeny helps children from all over Scotland, aged 5-14, who have experienced early years trauma and adversity to re-discover the joy and opportunities of childhood. The charity will use the portacabin as office space for colleagues, providing them with a base from which to manage the estate.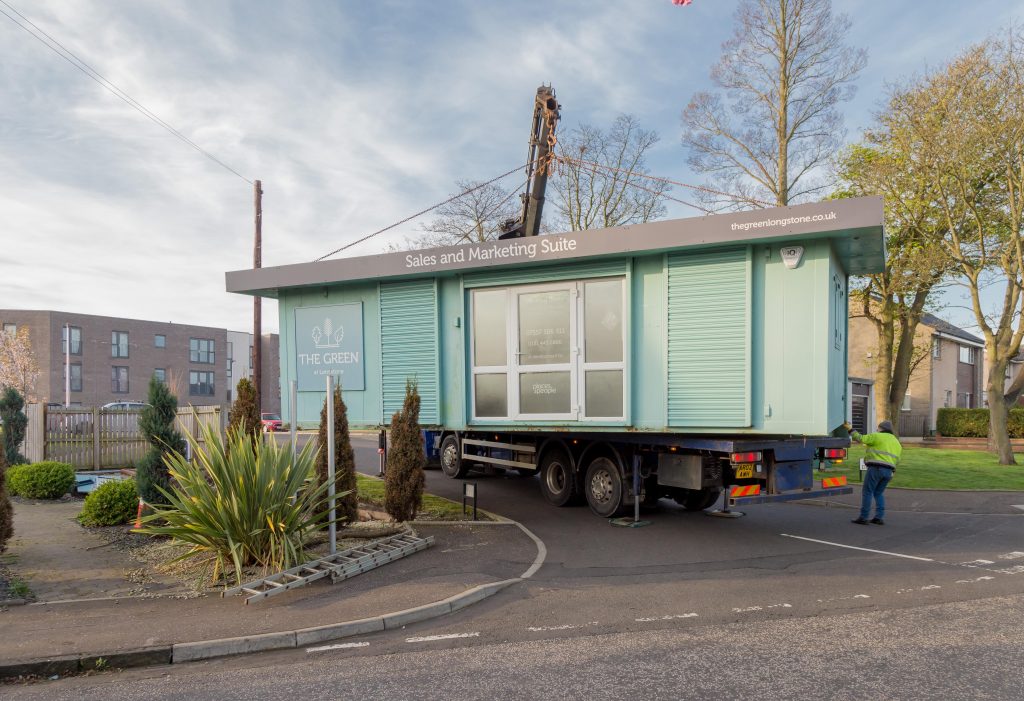 The sales and marketing suite being lifted from The Green
"We are delighted to see the former sales and marketing suite repurposed and put into use by Harmeny. Their application really resonated with us and, although we saw so many great submissions from charities around Edinburgh, we felt that this was the best use for the portacabin, something which will help this impressive charity navigate a new period of growth and improve the lives of so many more children."

Willie Lockhart, Places for People's regional managing director for Scotland
The donation of the portacabin enables Harmeny to focus its efforts on its ongoing Learning for Life fundraising campaign to raise £3.1 million to extend its care and educational facilities for children up to the age of 18.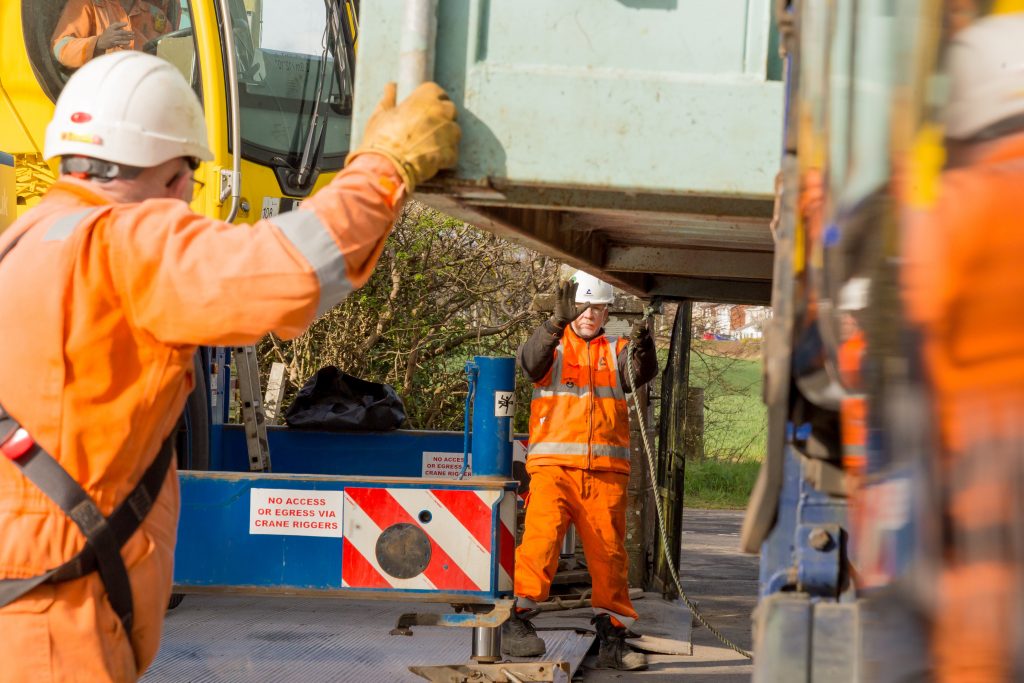 Transporting the sales and marketing suite
Supporting our therapeutic approach
"Providing a new base for our estates maintenance team is part of a wider strategy to improve our facilities and offer more children the support and stability they need. Our grounds are core to our therapeutic approach and are vital in helping our children to build their confidence, form positive relationships, and develop vital skills for life and work.

We are thankful to Places for People for supporting us in our endeavour. Their offer of this unit will save us around £30,000 and prevents us from laying out any further costs that would detract from our wider fundraising campaign. The company has even assisted us to navigate the delivery logistics; after we realised entrance to our estate was too small to accept the portacabin, Places for People organised for a crane to lift the cabin onto site which also saved us an additional £6,000.

As an organisation, we teach our children how to be resilient and this is a good example of how Harmeny and Places for People have worked together to come up with a solution."

Neil Squires, chief executive at Harmeny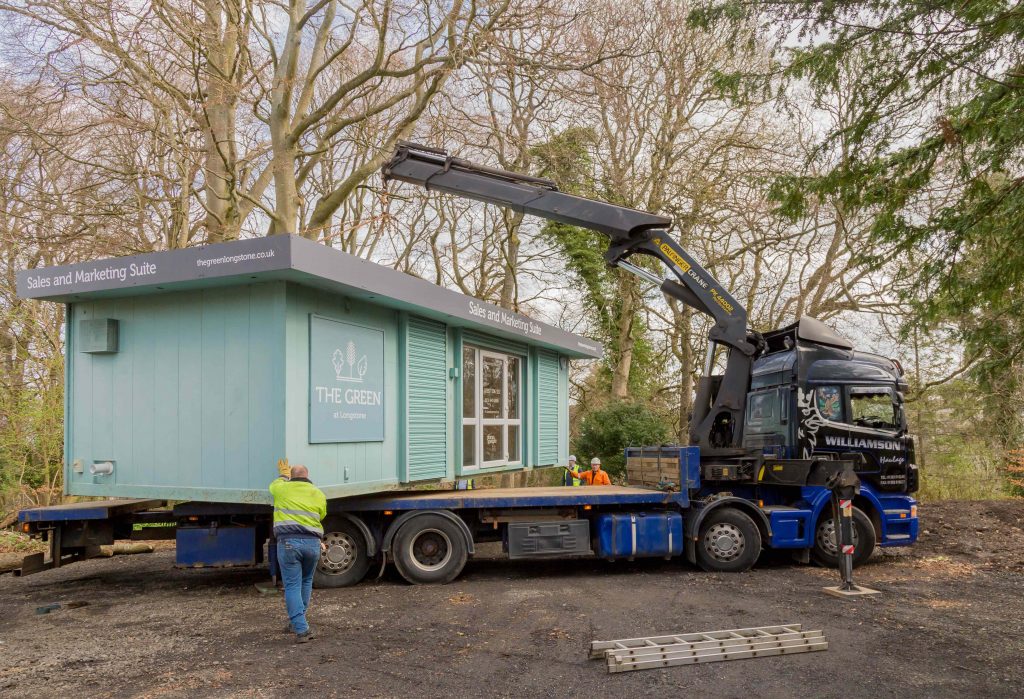 The suite being dropped at Harmeny
"Making a difference for our customers and communities has always been at the heart of Places for People's approach and we are delighted to be able to support inspiring organisations like Harmeny. We wish the team every success as they expand their estate and look to deliver increased opportunities for Scotland's young people."

Marcus Hulme, director of places impact at Places for People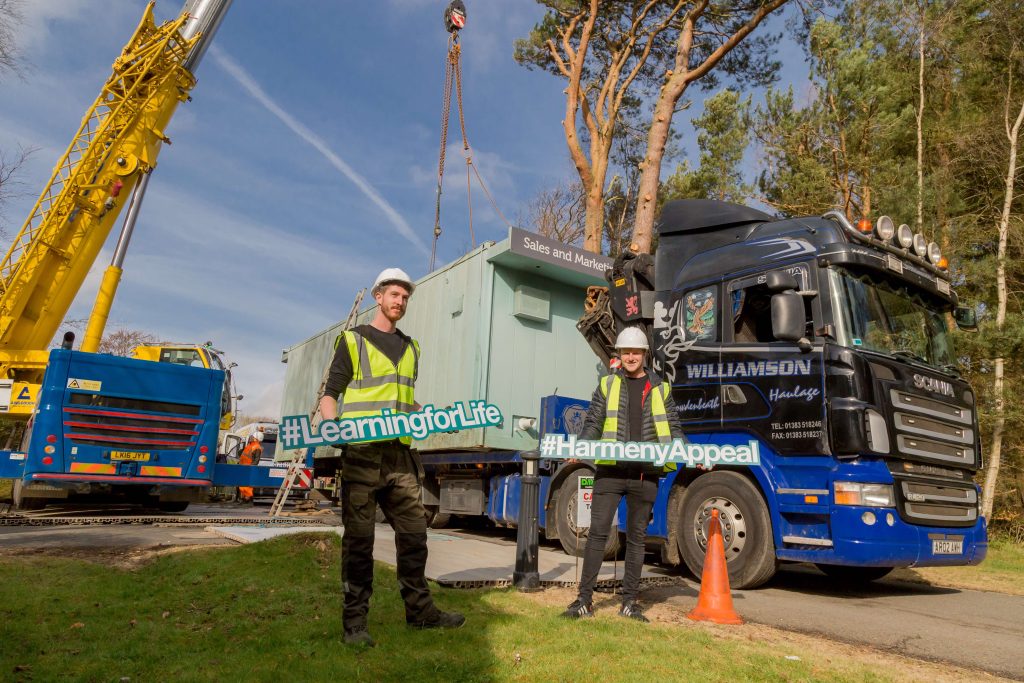 Jed Thomson-Cramer and Callum Leith of the Harmeny Estates Team during the transportation of the cabin.